WE SOLVE YOUR MOST FREQUENT QUESTIONS
WHAT IS INCLUDED in the charter?
In all our Lovit Charter charters we include the following; captain, fuel, non-unlimited soft drinks (various beverages, water, beers and cava/white wine). Some of the boats may offer some snacks (chips, olives).
It also includes the sound system, some with auxiliary speakers and other speakers on the boat, most with Bluethooth connection.
If the excursion is fishing, we include all the fishing equipment, bait and fishing spots.
CAN I BRING my food/drink on board?
Yes, as long as it is consulted before and approved as valid. We do not allow red wine or bongs on board.
We also recommend that you bring sunscreen and your own bath towels.
HOW AND WHEN DO I MAKE PAYMENTS if I want to make a reservation?
When you wish to book our colleagues at Lovit Charter will tell you the amount that you must pay to make the reservation (usually 20 or 50% of the total).
Once the deposit is made, the rest of the payment will be made the same day of the excursion before sailing.
It is important to emphasize that all prices are per boat, not per person.
What CANCELLATION POLICY do you offer?
Lovit Charter informs that its cancellation policy must always be justified with official and valid data in order to make the refund.
If it is before 7 days of the charter and justified, it will be paid in full (minus the management fees which are 40 €).
If it is less than 7 days before the charter, 50% of the total amount will be paid.
If the cancellation is made WITH LESS THAN 2 DAYS REMAINING, there is no refund.
Once the reservation has been made, it is understood that the client has read the Cancellation Policy and accepts it.
What happens if there is BAD WEATHER?
In case of bad weather, Lovit Charter relies on waves and winds and not on the ambient temperature. If the weather is not favorable, in the first place, we will look for other options for other times and/or dates. In case of not being able to arrange other options, the deposit will be refunded in full (50€ management fees and commissions). If the customer decides to cancel without consultation it will be considered a Cancellation by the customer.
Can I take MY PET with me?
YES. Lovit Charter accepts that pets can be taken on board as long as prior notice is given to inform the captain. Each boat has its own rules so not all of them will have the right to admit pets. The pet must be leashed at all times in the part that the captain indicates.
Can I rent the boat WITHOUT CREW?
NO. Lovit Charter offers all its fleets of boats with captains. We do not accept the rental of our boats without crew, even if they appear so reflected in external pages to ours.
Is PROPINA included and how much is it?
Tipping is not included in our rates, but it is not mandatory. If you wish to tip the crew as a courtesy, you may tip any amount you wish.
What DO YOU RECOMMEND OR SHOULD WE KNOW before the excursion?
Lovit Charter informs and recommends that you come with positivity and desire to have a good time. To prevent seasickness, you can take a pill for seasickness (Biodramine) 1 hour before.
live the EXPERIENCE, enjoy the moment, discover new CORNERS
ALL OUR TOURS ARE PRIVATE

Boat rentals, Excursions and Activities with skipper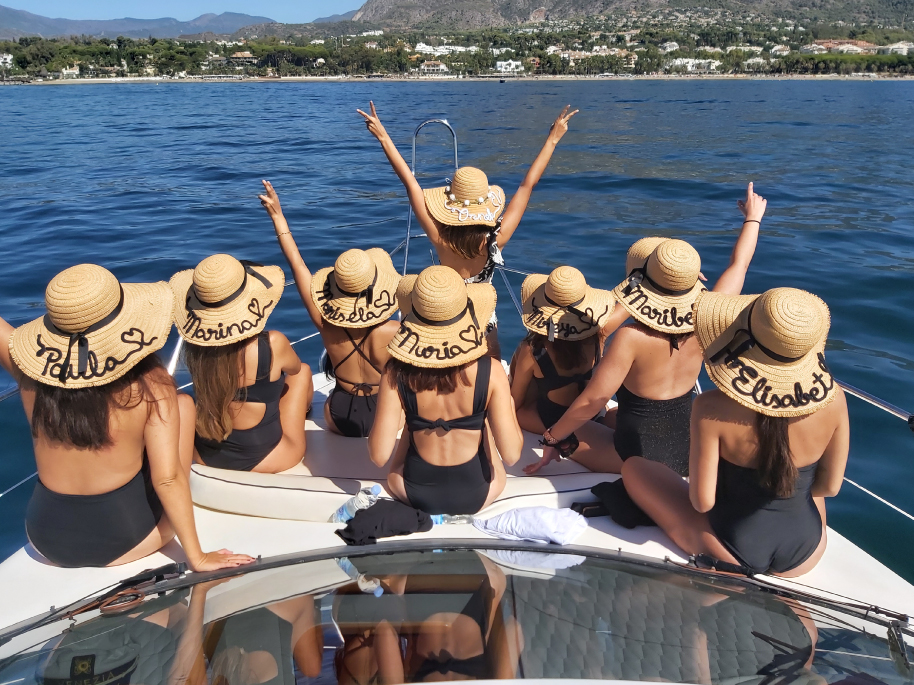 Lovit Charter organises the best hen and stag parties on board the most party boat on the Costa del Sol. We recommend booking a 4 hour excursion at an average rate of 75€* per person with a maximum of 9 people on board.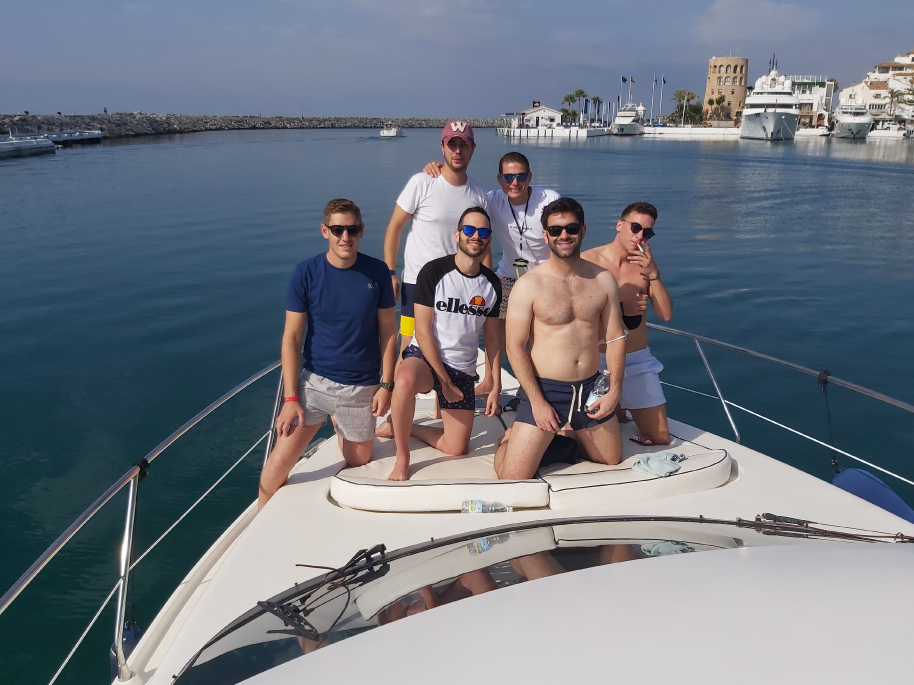 Lovit Charter Puerto Banus brings you an unforgettable experience! Experience the best party aboard a boat on the coast of Marbella. Come with your friends or family and just worry about enjoying yourself. Rates from 50€ per person all inclusive.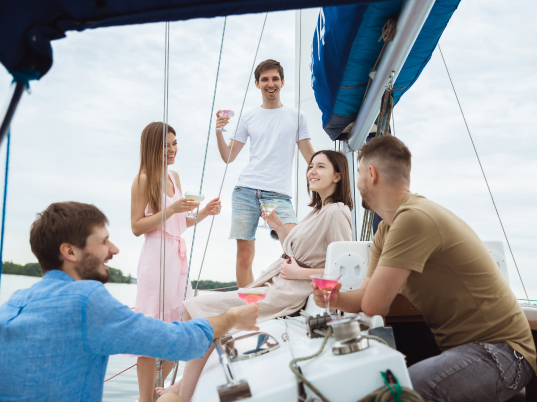 TEAM BUILDING
Make a fun experience with your work team, a specific activity for you to share time outside the work environment. You can do it on our boats along the Costa del Sol.
At Lovit Charter Puerto Banús our clients have been enjoying our boats for years, whether it be fishing, organising epic hen parties or simply relaxing while watching the sunset.
Perfect organisation, for a hassle free plan. A very good family fishing day.
Great experience.
Jorge is fantastic, friendly, super polite and respectful. The trip and the experience was great, I would repeat every weekend!
We booked a boat trip and Jorge's attention was exquisite. It is impressive to admire the coast of Marbella. We will be back.
Every year we take a trip to Marbella and we book a trip with Lovit Charter. I recommend it 100%. Jorge is the best.