Bottom fishing is one of the specialties of Lovit Charter Puerto Banús.
We love bottom fishing for the variety of species that we capture and for the fun it offers us.
Fish in the background in Marbella and with Lovit Charter.
Lovit Charter Puerto Banús is open all year. Bottom fishing is ideal to enjoy as a family, with friends or alone.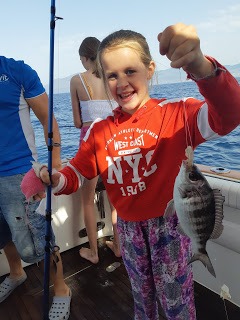 Red Snapper
Today we are going to talk about the fishing of the Red Snapper or Pargo (Pagrus Pagrus) through bottom fishing in Marbella.
The Costa de Marbella offers many areas of good fishing. Bottom fishing is one of the most practiced activities among fishing enthusiasts.
To make a good deep-sea fishing you have to know very well the area where you are going to fish and know what activity we find in its depths.
Red snapper fishing requires technique and knowledge about this species. The red snapper is a species that requires delicacy and precision in its capture.
Red Snapper caught with cane and boat in Marbella. Lovit Charter Puerto Banus
As is common in bottom fishing, with a not very heavy lead and a fresh bait and not eaten quickly by other fish, be it squid, shrimp or flashy colors such as the color of sardines. The bite of the red snapper is very peculiar, it is usually double run or pitch.
Once the red snapper has chopped, we will give a tug of the glen (not too abruptly so as not to lose the piece).
In bottom fishing it is very important to play with the tension of the line and the speed of the reel. When we get to climb the piece of the depths, we have to know that at any moment we can escape if we do not do it well, so in each head that hits the red snapper (red snapper) we will have to lower the speed of the reel to that the pressure does not break the line.
When we take the fish out of the water, we will clearly see its reddish colors and the whitish gut. The head of the red snapper is rounded (not to be confused with the Breca that its head is elongated).
Enjoying a day in Marbella with a bottom fishing with red snappers (red snapper) is one of the best experiences that a fishing lover can live.
Lovit Charter gives you the opportunity to live that experience and taste it first hand, will you miss it?